Self-Healing Journey
The Pathway to Emotional Freedom Through Self-Regulation

You CAN reduce your anxiety and heal your emotional triggers and I would love to be your guide to show you how.
There is more course information below.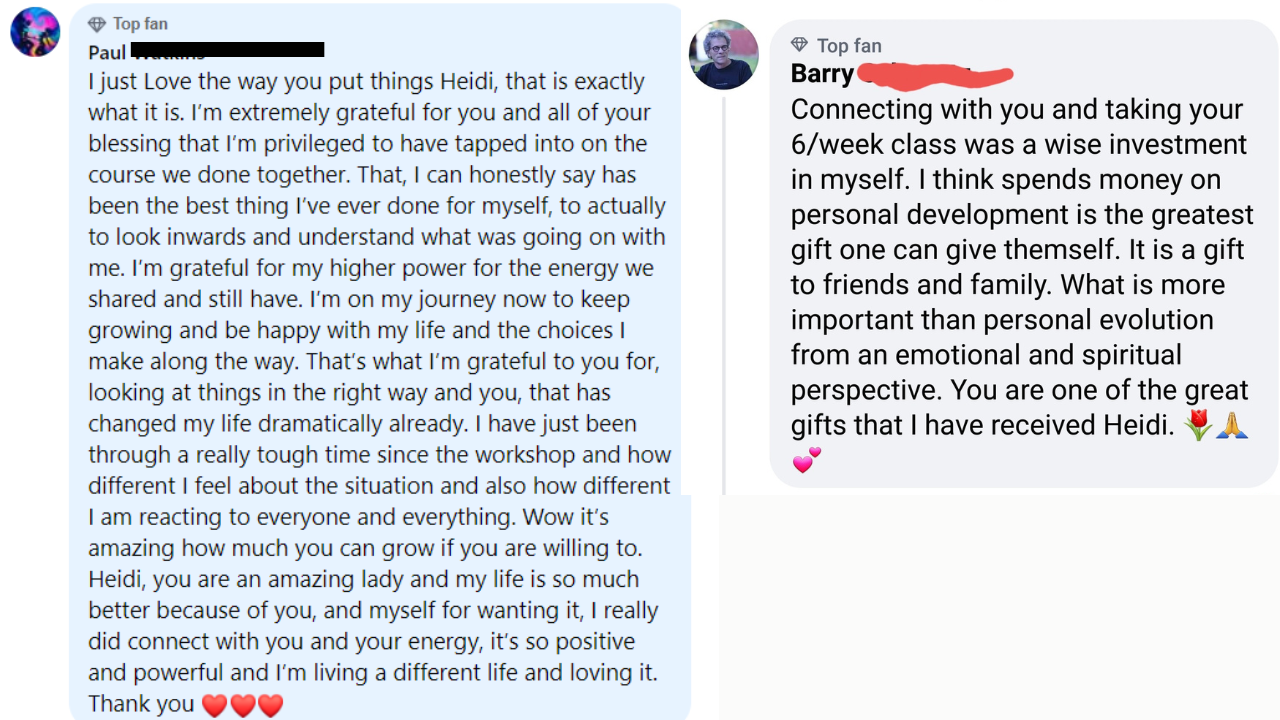 Student Testimonials

Students have had such incredible shifts and breakthroughs after embracing the teachings and exercises offered in this course.

Self-Healing Journey
Are you feeling anxious & can't possibly figure out how to feel better?
Do you find yourself anxious about your anxiety?
This is something for us to address...

Are you worried about making mistakes, not being good enough, or disappointing others?
Let's learn to love ourselves the way we are...
Do you sometimes feel like you're a burden to others? Or misunderstood?
I used to be this person...

Do you feel like life is out of your own control?
We've all been there...

Are you wondering if you'll ever feel 100% happy, confident, & comfortable in your own skin?
There is something we can do about this, fast.
Do you feel like you haven't tapped into your complete potential yet?
Let's work on changing this....
Do you want to experience a sudden breakthrough where life becomes magical?
Perhaps you are looking for that rush....

Do you wonder why you keep repeating the same thoughts, feelings, results?
There is another way...
This is your chance to break through & experience happiness, confidence, & to become empowered to live the life you've always dreamed of....
Inside of the program you will learn:
Self regulation exercises that will leave you feeling great

How to drop your anxiety levels in a moment's time
What is co-regulation & why this is critical to feeling better
How to heal from traumas, abuse, bad relationships, childhood experiences, & more.
Why you're continuing to experience anxiety, chaos, or overwhelm on repeat.
How the nervous system actually works from a scientific standpoint.
And many more surprises....
Have you been on a journey of self-development for a while now? It's okay if you feel like you've tried everything, from reading books to various types of coaching, alternative medicine, and more. However, have you ever felt like something was still missing?
It's okay if you feel stuck and unable to break through to the next level of success in your life, business, and relationships. The anxiety and emotional turmoil can be overwhelming, and it's important to acknowledge that.
Embarking on a journey of personal development can feel like opening Pandora's Box of emotions. Although it's often painted with love, light, and positivity, it can be challenging for many of us. It's not just about love and light; it requires facing our fears, anxieties, doubts, and insecurities.
The good news is that as you learn to manage your emotions and build a healthy nervous system, you'll discover that the possibilities are endless. Creating a healthy nervous system is the foundation for success in all areas of your life.
To achieve this, you need to break through the trauma loops that have been keeping you stuck and stop overriding your emotions through mindset approaches. Instead, you must learn to regulate your emotions and take care of yourself and your nervous system in a holistic way.

The first step towards reaching your full potential is learning to regulate your emotions and build a healthy nervous system.

Don't wait another moment, hit the enroll button and start your Self-Healing Journey today!

Hi, I'm Your Instructor and Guide

Heidi is an Emotional Health & Empowerment Coach at HeidiDellaire.com where she coaches individuals to a higher sense of confidence within themselves and with others. She is also an Alternative Health Therapies Practitioner/Coach, Intuitive Healer, Meditation and Mindfulness Instructor,Licensed Massage Therapist, Registered Ayurvedic Practitioner, and the managing and publishing editor of LoveWideOpen.com, a self-development and resource website. She is the author of Roots and Tendrils, a collection of poetry that takes you on a journey through the highs and lows of love that ultimately leads to self-love. She holds certifications in massage therapy, craniosacral therapy, Reiki, Ayurvedic Medicine, Advanced Cognitive-Based Meditation Techniques, Somatic Experiencing, Life Coaching and is a graduate of Gabrielle Bernstein's Spirit Junkie Masterclass for coaches.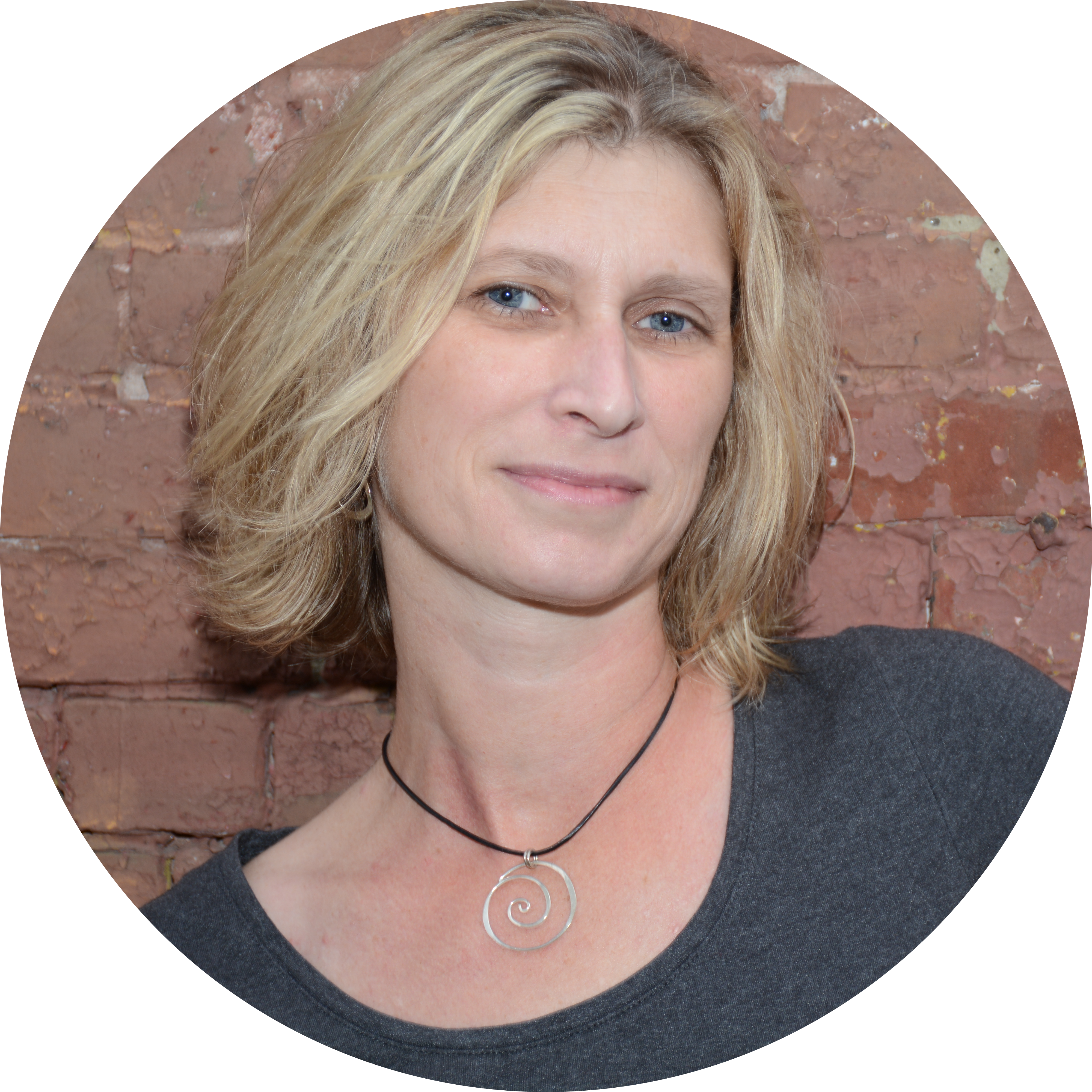 Frequently Asked Questions
When does the course start and finish?
It is a completely self-paced online course - you decide when you start and when you finish. The course is drip content to maximize the weekly exercises healing practices and the first 2 modules drop upon purchase and then the next module seven days later, and so on. However, if you don't start right away, it is suggested that you take a full 7 days between each module to truly get the full benefits of the exercises.
How long do I have access to the course?
How does lifetime access sound? After enrolling, you have unlimited access to this course for as long as you like - across any and all devices you own.
What if I am unhappy with the course?
We would never want you to be unhappy! If you are unsatisfied with your purchase, contact us within the first 7 days from date of purchase and we will give you a full refund.
Can I add 1:1 coaching?
Absolutely! Just reach out via email to [email protected] and we will jump on a call to discuss options.